About Gina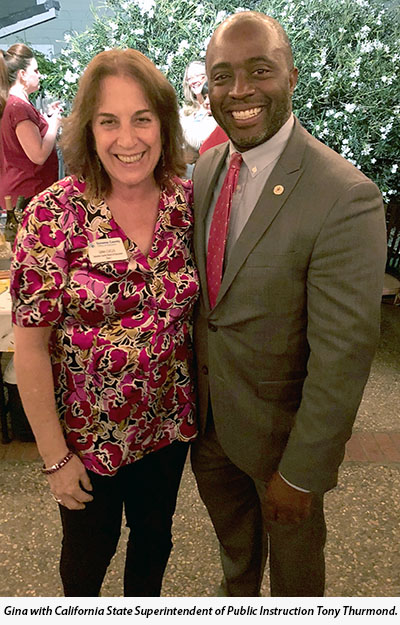 Gina brings to her elected office decades of service to the people of eastern Sonoma County, focusing on the needs of children, families, and community health and well-being.
Because of her community leadership, Gina was recruited to run for Sonoma County Board of Education Area One Trustee in 2012 by the Sonoma Valley Unified School District Superintendent, Louann Carlomagno, Ed.D. Gina has demonstrated her popularity and positive reputation by twice being elected with well over 60% of the vote, the first time against an incumbent. Gina is currently board Vice President and is in line to serve her second term as President next year. She represents Sonoma, Bennett and Rincon Valleys, and Oakmont.
Early in 2019 the County Boards of Education in Solano, Napa, Marin and Sonoma elected Gina to represent them on the board of the California Counties Boards of Education (CCBE) and the California School Boards Association Delegate Assembly. Gina previously served four years on CCBE's Legislative Committee.
This year Gina was appointed by the California School Boards Assoc. president to serve on CSBA's Climate Change Task Force to make recommendations for how CSBA can help school districts and county offices of education address climate change. She is one of only 14 school board members from throughout the state on the task force, the only one from north of San Francisco, and the only county school board member.
For ten years Gina has served on the Sonoma County Maternal, Child and Adolescent Health Advisory Board, two years as chair. She has spent several years volunteering as a Schools of Hope reading tutor at Prestwood Elementary School, and previously at El Verano Elementary, in Sonoma Valley.
Gina's 27-year-old twin daughters went through Sonoma Valley public schools graduating from Sonoma Valley High in 2011. During her daughters' school years, not only did Gina do the usual parent volunteer activities — field trip driving, classroom helper, grad night organizing, fundraising support — she helped campaign for several school bond measures, the first before her daughters were born.
Until recently, Gina served seven years on the board of the nonprofit Sonoma League for Historic Preservation, where she chaired the civic advocacy committee and served a term as Vice President. Gina also served on the citizens ad-hoc committee that created the General Vallejo bench and statue located on the Sonoma Plaza. Gina participated in both these activities as a means to educate Sonoma's youth about their town's history.
Gina's prior community service includes nine years on the City of Sonoma's Planning Commission and four years on the Sonoma Valley Health Care District's Strategic Planning Committee. In 1992 she co-founded the first community advocacy group for the unincorporated area of the Springs: the Verano Springs Association. For years as VSA president, Gina worked closely with county and state officials to secure funding and construction of sidewalks and a bike path along Highway 12, making travel safer for children heading to school.
Professionally, Gina owned and operated a small award-winning public relations firm that represented North Bay clients in business, the environment, health care and non-profits. She also held staff communications positions at United Way and the Council on Aging. She is a former television and radio journalist, and between 2013 and 2018 wrote a column for the Sonoma Valley Sun newspaper.
Gina is a graduate of the University of California, Santa Barbara with a B.A. in Communications Studies. She and her husband Roy Tennant have been married 37 years and have lived for 34 years in Sonoma Valley.