About Cuclis PR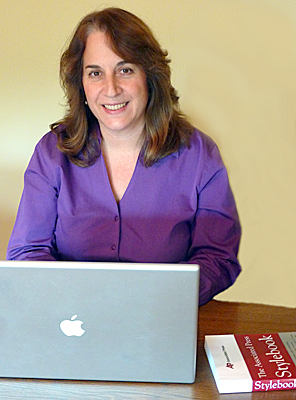 Cuclis PR's principal, Gina Cuclis, is an accomplished and award-winning public relations expert with more than 20 years professional experience in a wide range of communication specialties and a track record of achieving desired results. She is a proven creative talent with excellent conceptualizing, writing and presentation skills, and a distinct ability to effectively communicate complex material.
Gina's abilities include facilitating and guiding diverse personnel to develop, clarify and achieve communication objectives. She has a history of sound judgment and effective decision-making abilities with a distinction for identifying problems and potential problems and achieving mutual and workable solutions.
Gina is also an experienced workshop and large group presenter. She has taught public relations, media advocacy, press release writing and social media classes for nonprofits, public agencies and capacity building organizations. She has given presentations to civic and business groups.
Gina has held manager and director of public relations/communications positions with a local United Way, a senior services agency, and a women's crisis center. She served three years on the board of the Sonoma County Press Club. She is a member of the Public Relations Society of America's Counselor's Academy. She is also an alumna of the Sonoma Valley Chamber of Commerce's Leadership Sonoma Valley program.
Gina is also active in community and political affairs. She currently serves on the Sonoma County Maternal, Child & Adolescent Health Advisory Board. From 1997-2006 she served on the City of Sonoma's Planning Commission. She was on the Sonoma Valley Health Care District's Strategic Planning Committee from 2006-2009 and from July 2006-June 2010 was an officer in the Sonoma County Democratic Party. In 1992 Gina was a lead organizer, and later served as president for four years, of a community advocacy association. She has volunteered for numerous political campaigns and is a member of several community and environmental organizations.
Gina has a B.A. in Communication Studies from the University of California, Santa Barbara. She is the mother of identical twin teenage girls.
See Gina's LinkedIn Profile for additional professional experience.
What Clients Say About Cuclis PR
Awards
2006 The Communicator Awards - Award of Distinction, News Release Writing
2002 The Communicator Awards - Honorable Mention, News Release Writing
1997 United Way of America Communications Contest - Second Place, Annual Reports; Third Place, Radio Advertising
1996 United Way of America Communications Contest - Third Place, Radio Advertising
Clients
Hired Hands Home Care
Center for Applied Research Solutions (CARS)
Sebastiani Theatre Foundation
Sonoma Valley Hospital
Southern Sonoma County Resource Conservation District
Sonoma County Department of Health Services
Sonoma Hills retirement community
Alioto & Baldwin Interiors
Meyers Financial
Sonoma Valley Community Health Center
Drug Abuse Alternatives Center
Rx Yoga, Gail Dubinsky, M.D.
PACS Political Action Committee
Petaluma Health Care District
Northern California Center for Well-Being
Sonoma County Recovery Happens Coalition
Sonoma County Hepatitis C Task Force
Coalition for a Tobacco Free Sonoma County
Santa Rosa Junior College
Laguna de Santa Rosa Foundation
Sonoma Land Trust
West County Community Services
Sonoma County Office of Education, Redwood Awards
Redwood Community Health Coalition
County Alcohol and Drug Program Administrators Association of California
Valley of the Moon Teen Center
Sonoma County Literacy Coalition
Gingerbread House Preschool
Roy Tennant, Internet Trainer and Author
North Bay Health Insurance Counseling and Advocacy Program (When it was with the North Coast Health Resources Center)