Putting Students First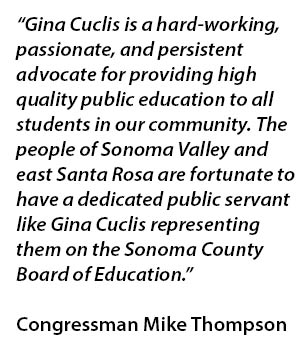 It's been an honor and privilege to serve our local school districts and the people of Sonoma Valley and East Santa Rosa as your Area One Trustee on the Sonoma County Board of Education. I am currently its Vice President. After overwhelmingly winning two elections with more than 60% of the vote, I decided during this past term to work even harder, taking on statewide responsibilities also.
The five-member Sonoma County Board of Education is the governing board of the Sonoma County Office of Education (SCOE). The board works in conjunction with the elected county superintendent providing services and support to Sonoma County's 40 school districts. As the Area One Trustee, I represent and am the liaison to the Sonoma Valley Unified, Kenwood, Bennett Valley Union and Rincon Valley Union school districts. As trustees on those boards can attest, I visit their board meetings, provide them information, and keep them apprised of my work on their behalf.
Why I'm Running for Re-Election
No crystal ball could have prepared school leaders for the series of disasters we've been coping with since 2017: Two major fires, the Russian River flood, heavy smoke from a neighboring fire, public safety power outages, and the COVID-19 pandemic. Our SCOE team has been providing leadership to help districts recover and address issues such as lost instructional days, students and staff trauma, declining enrollment, and re-opening schools safely after being closed this spring. There's much work to do and our area's school districts are best served by someone who knows them and has shared their experiences.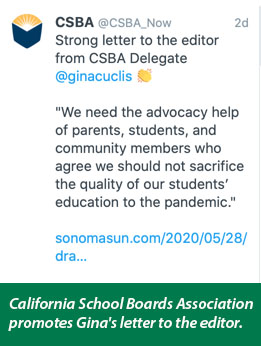 Please read highlights of my additional accomplishments on the issues of educating expelled and incarcerated youth, student mental health, career and technical education, special education, the teacher shortage, professional development for educators and trustees, and prudent budgeting.
Goals for My Next Term
Exceptional Customer Service to School Districts:
SCOE recently had an independent customer service evaluator survey our districts. SCOE placed in the 92nd percentile in customer satisfaction.
Rigorous, High Quality Schooling for Expelled and Incarcerated Youth:
SCOE provides the education for students at the juvenile hall and probation camp. We also operate two community schools in Santa Rosa and Petaluma serving students who've been expelled or placed by the courts. In Dec. 2019 we had the largest number of students at one time to successfully complete are the requirements for returning to their districts' schools.
Mitigating Learning Impacts of Lost Instructional Days:
Due to the disasters of the last three years, Sonoma County school districts have collectively lost 1,000 days of instruction. I will advocate for funding, resources and legislation to help our students recover the learning loss.
Addressing Student Trauma and Mental Health:
Ever since the 2017 fires, SCOE has received a variety of funding to train school and community counselors on childhood trauma and PTSD, and has employed counselors who see students referred by their districts. Continuing to provide and expand these hard to fund services is my priority.
Responding to Racism and Inequities in Our Public Schools:
Years before the issue received the attention it has currently, in 2015 I convinced my SCOE colleagues to host a Sonoma County trustee symposium entitled "Courageous Conversations About Race" with Glenn Singleton, PhD., who works with school districts to discuss and address racism in their schools. Recently, I've been talking with SCOE staff on what we can do to take a deeper dive into fixing this systemic problem.
Fairly Adjudicating Inter-District Transfer and Expulsion Appeal Hearings:
The County Board of Education is the appellate body for students who believe they weren't given due process when denied an inter-district transfer or expelled by a district. These are emotional hearings and often difficult decisions. With experience, I've grown in my ability to make fair decisions that focus on the best interests of the students, while balancing the needs of the districts.
Statewide Leadership and Advocacy, including Climate Change Action:
The four county boards of education in Sonoma, Napa, Solano and Marin elected me in early 2019 to represent them on the California School Boards Association's Delegate Assembly and the California Counties Boards of Education (CCBE) board, where I've been addressing issues that impact all public school students in the state. I've also made trips to Sacramento and Washington D.C. to discuss school issues with state and federal lawmakers. This year, the CSBA president appointed me as one of 14 school board members -- the only one from north of San Francisco and the only County Board member – to serve on CSBA's Climate Change Task Force. The task force will make recommendations on how CSBA can help public schools address impacts of climate change. This work continues into next year. Recently, my colleagues on the Sonoma County Board of Education nonimated me to run for Vice President of CCBE. That election is in December.[>